AMD CEO Dr. Lisa Su received Distinguished Executive Leadership Award
Date: 29/08/2023
The JEDEC Board of Directors presented its prestigious 2023 Distinguished Executive Leadership Award to AMD Chair and CEO, Dr. Lisa T. Su, in a ceremony held at AMD's offices in San Jose, CA. This award stands as JEDEC's highest honor and recognizes the most distinguished senior executives in the electronics industry who promote and support the advancement of JEDEC standards.

"I deeply admire Dr. Su's commitment to open standards development, and JEDEC is grateful for her invaluable support and that of her team at AMD," said Mian Quddus, JEDEC Board of Directors Chairman. He added, "Dr. Su's exceptional leadership has been an instrumental catalyst for progress in various JEDEC standardization efforts including DRAMs, LPDRAMs, HBMX and GDDRX technologies. Dr. Su has also been a strong proponent of driving the use of JEDEC standard memory technologies in AMD products."

As chair and chief executive officer, Dr. Lisa T. Su led the transformation of AMD into the high-performance and adaptive computing leader, and one of the fastest growing semiconductor companies in the world. Prior to serving as chair and CEO, she was the chief operating officer responsible for integrating AMD's business units, sales, global operations and infrastructure enablement teams into a single market-facing organization responsible for all aspects of product strategy and execution.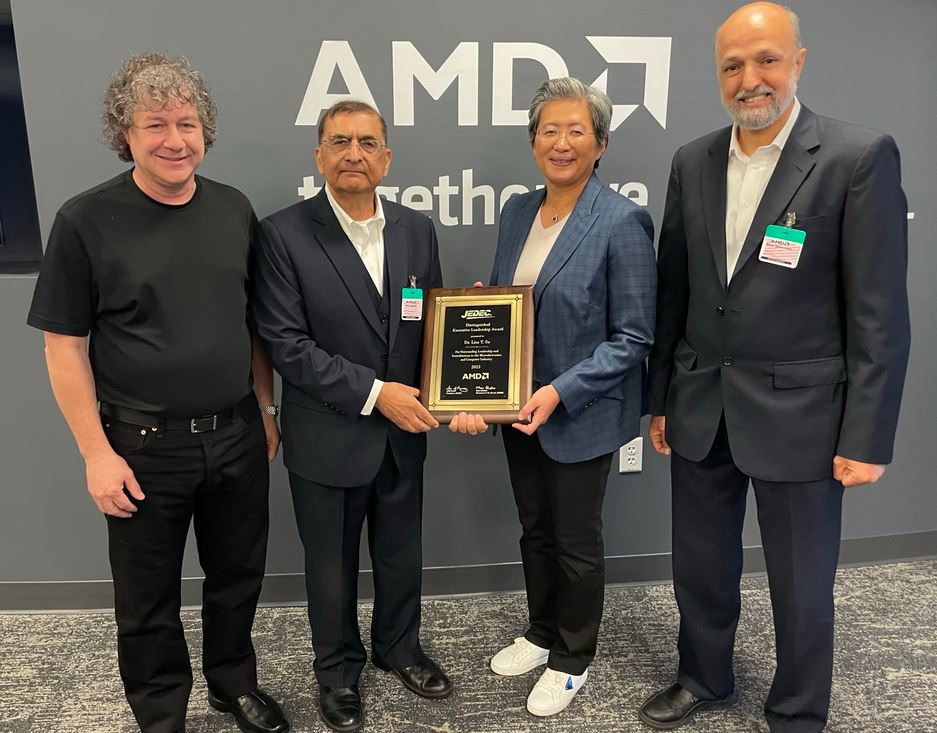 JEDEC Board members Joe Macri (left), Chairman Mian Quddus, and Belal Gharaibeh present Dr. Lisa T. Su, AMD Chair and CEO, with the association's Distinguished Executive Leadership Award for 2023.