India Semiconductor Mission organized SemiconIndia 2023 to start on 28th Jul 2023
Date: 26/07/2023
This second version of India Semiconductor Mission organised SemiconIndia event is scheduled to start on 28th of July 2023 and will end on 30th of July 2023 at Mahatma Mandir, Gandhinagar, Gujarat. The event will be inaugurated by Shri Narendra Modi, Honourable Prime Minister of India on 28th July, 2023 at 10:30 AM.

India Semiconductor Mission (ISM) is an independent Business Division within the Digital India Corporation that aims to build a vibrant semiconductor and display ecosystem to enable India's emergence as a global hub for electronics manufacturing and design.

SemiconIndia 2023' is being organised with the aim to make India a global hub for Semiconductor Design, Manufacturing and Technology Development which will help propel the vision of India Semiconductor Mission. There are attractive incentives provided by Govt. for chip manufacturers.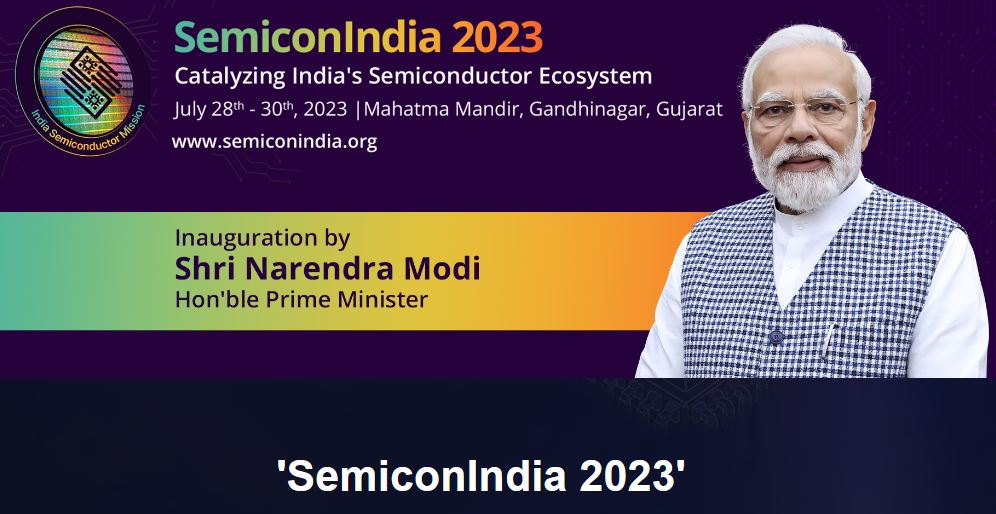 Speakers at the event include:

Shri Bhupendrabhai Patel
Hon'ble Chief Minister of Gujarat

Shri Ashwini Vaishnaw
Hon'ble Minister for Electronics & Information Technology, Railways and Communications

Shri Subrahmanyam Jaishankar
Hon'ble Minister of External Affairs

Shri Rajeev Chandrasekhar
Hon'ble Minister of State for Electronics & Information Technology and Skill Development & Entrepreneurship

Sanjay Mehrotra
President & CEO, Micron Technology

Young Liu
Chairman, Foxconn

Anirudh Devgan
President & CEO, Cadence

Prabu Raja
President Semiconductor Products Group, Applied Materials

Anil Agarwal
Chairman, Vedanta Group
Event Speakers

Ajay Sood
Principal Scientific Advisor, Govt of India

Alkesh Kumar Sharma
Secretary, MeitY

Ajit Manocha
President & CEO, SEMI
Mark Papermaster
EVP & CTO, Advanced Micro Devices

Shang-Yi Chiang
Chief Strategy Officer, Foxconn

Vinod Dham
Founder, Indo-Us Venture Partners

Neelkanth Mishra
Chief Economist, Axis Bank

Jaya Jagadish
Country Head, AMD India

Darshan Hiranandani
CEO, Hiranandani Group

Ahmad Khan
President-Semiconductor Process Control, KLA

Gursharan Singh
SVP, Micron Technology

Devan Iyer
SVP, Amkor

Mukesh Khare
Vice President, IBM Semiconductors

Vijay Nehra
Secretary, Government of Gujarat

Rajesh Kumar Singh
Secretary, DPIIT

Balaji Baktha
CEO, Ventana Micro Systems

Jayesh Ranjan
Principal Secretary, Government of Telangana

Tummala Rao
Professor Emeritus, Georgia Tech

Hem Takiar
CVP, Micron

Rangesh Raghavan
VP & GM, LAM Research

Lars Reger
EVP & CTO, NXP Semiconductors

Vivek Sharma
MD, ST Microelectronics

Rajeswaran
Director & CEO, Grantwood Technologies

Rohit Girdhar
Vice President, Infineon Technologies

David Krick
Global Solutions and Technology Director, Jacobs

Surya Bhattacharya
Director, IME Singapore

Srinivas Satya
President & Managing Director Applied Materials India

Vijay Raghunathan
Professor, Purdue University

Amrit Manwani
MD, Sahasra

V. Vishnu
MD and CEO Guidance, Government of Tamilnadu

Neel Gala
CTO, InCore Semiconductors

David Reed
CEO, Vedanta Semiconductors Ltd

Jitendra Chaddah
VP, GlobalFoundries

K Mukundan
Senior Principal, NIIFL

Suneet Shukla
GM, IFCI

Anand Ramamoorthy
VP & MD, Micron Technology

Cyril Patrick Fernandez
CEO & MD, Advanced Fab Technology

Raman Achutharaman
Group Vice President, Joint Operations Leadership Team

Rajiv Talwar
Member CBIC

Ajay Prakash Sawhney
Former Secretary, MeitY

To attend and learn more about the event, visit: https://www.semiconindia.org