36.1 million smartphone shipped in 2nd Q of 2023 in India, a drop of 1%
Date: 26/07/2023
Canalys research has reported that the Indian smartphone market shipments stabilized at 36.1 million units, a modest decline of 1%, signaling a slight recovery after three quarters of decline.

Other findings shared by Canalys research includes:

On a sequential basis, the market grew 18% as the vendors' inventory levels improved due to a moderately favorable business environment. Samsung retained its leading position in the market in Q2 2023 with an 18% market share, shipping 6.6 million units. Trailing closely behind, Vivo reclaimed the second position after a quarter, shipping 6.4 million units. Xiaomi secured the third spot by shipping 5.4 million units, while realme and OPPO (excludes OnePlus) rounded out the top five by shipping 4.3 million and 3.7 million units, respectively.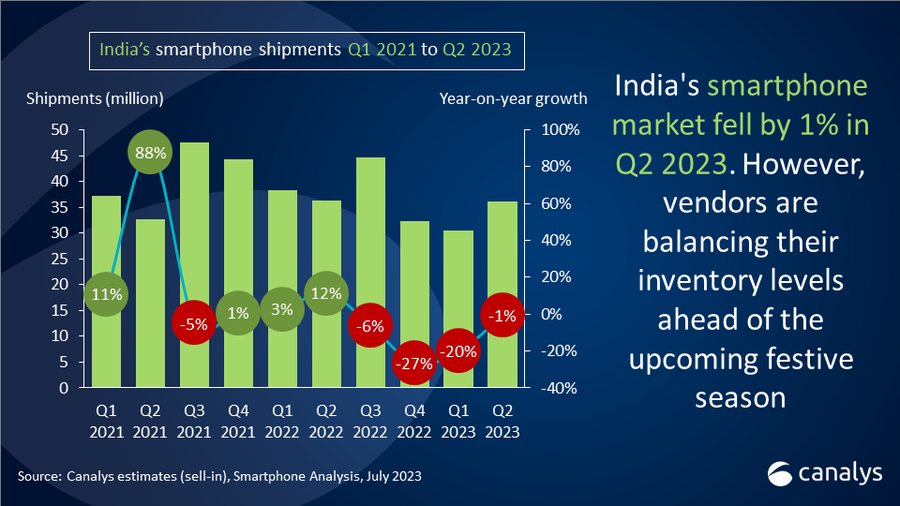 "Smartphone vendors are acclimatizing to the dynamic business environment, focusing on ensuring long-term sustainability," said Sanyam Chaurasia, Analyst at Canalys. "Brands are cementing their position in the market by collaborating further with the Indian channel ecosystem. Vendors are investing in local suppliers, nurturing retailers and aligning with the government's vision. Consumer inclination toward offline shopping in the mass-market and premium segments continues to drive vendors to implement effective offline strategies. For example, Apple opened some offline stores in India in April 2023 to address inventory issues, offer exclusive deals, and provide a unique customer experience. Samsung opened up more flagship stores throughout the country, while OnePlus has taken a creative approach with its pop-up stores, reaching multiple cities in tier-1 and tier-2 regions."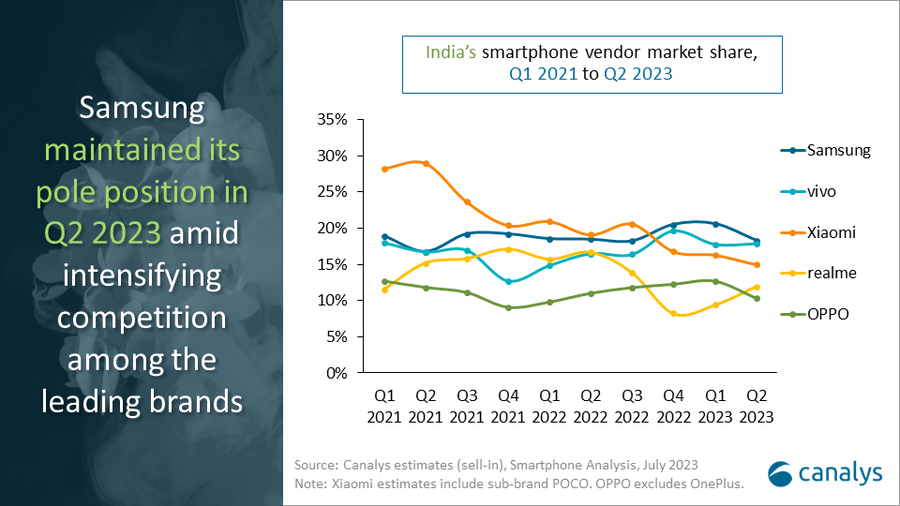 "Vendors effectively collaborated with channels to tackle existing inventory backlogs, clearing space for new models before the festive period starts next quarter," added Chaurasia. "Offline consumer demand, both in rural and urban areas, has surged due to a strong retail consumer preference. On the other hand, online demand has been inconsistent and primarily driven by urban consumers during e-commerce sales periods. However, vendors are now striving for a better balance between offline and online channels. For instance, Transsion sub-brands like Infinix have achieved significant volumes through the e-commerce channel, while Tecno and iTel are focusing on offline channels in lower-tier cities. OnePlus achieved robust growth by leveraging its Nord CE 3 Lite 5G and has now established a strong foothold in offline channels in smaller cities. Xiaomi and realme gained back momentum in Q2 2023. Xiaomi's Redmi A2 and 12C drove volumes, while its Poco brand acted as a growth catalyst driving shipments from the Poco C51 model. Realme focused on offline channels, with the C55 model accounting for 29% of its volume, although its online shipments slightly exceeded the offline sales."

"With a troubled few quarters behind us, the market has finally gained momentum heading into the second half," said Chaurasia. "During Q2, there was a slight improvement in macro indicators, with increased manufacturing output and reduced inflation rates. However, uncertainties related to the monsoon season will continue to pose risks to consumer demand. The current government aims to enhance consumer confidence ahead of the upcoming National Elections 2024. Canalys predicts a more favorable demand environment in the second half of 2023 due to improved consumer spending during the festive season. With India hosting the Cricket World Cup in October 2023, operators will focus on promoting their 5G services. Smartphone brands will strive to gain momentum by pushing their affordable 5G portfolio during this event."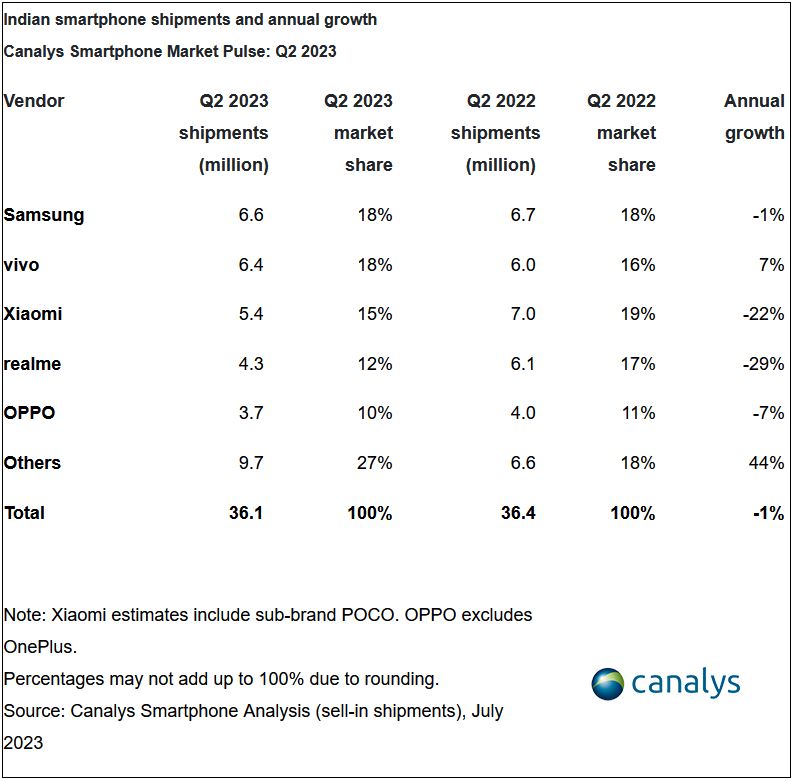 News Source: Canalys