Semiconductor chip design market booming in AI with flat or -ve growth in others
Date: 20/06/2023
Market researcher TrendForce has come out with its latest quarterly revenue performance study of leading chip design companies mainly fabless companies serving volume markets. The growth and fall is not even across companies, while some continue to grow in the first quarter of 2023, and some could maintain near-flat, while few see drop in revenues.

Qualcomm's revenue from its smart phone SOC business grew in first quarter 2023 by 6.1%, but it's automotive and IoT chip business fell, due to which it could only register 0.6% growth. Qualcomm continues to hold biggest share among fabless chip makers.

Broadcom's revenue declined by 2.7% Q-o-Q. AI Graphic chip maker Nvidia grew its biz by 13.5% Q-o-Q. MediaTek performance in 1st Q 2023 is least among the top ten whose revenue in 1Q23 fell by 8.8%.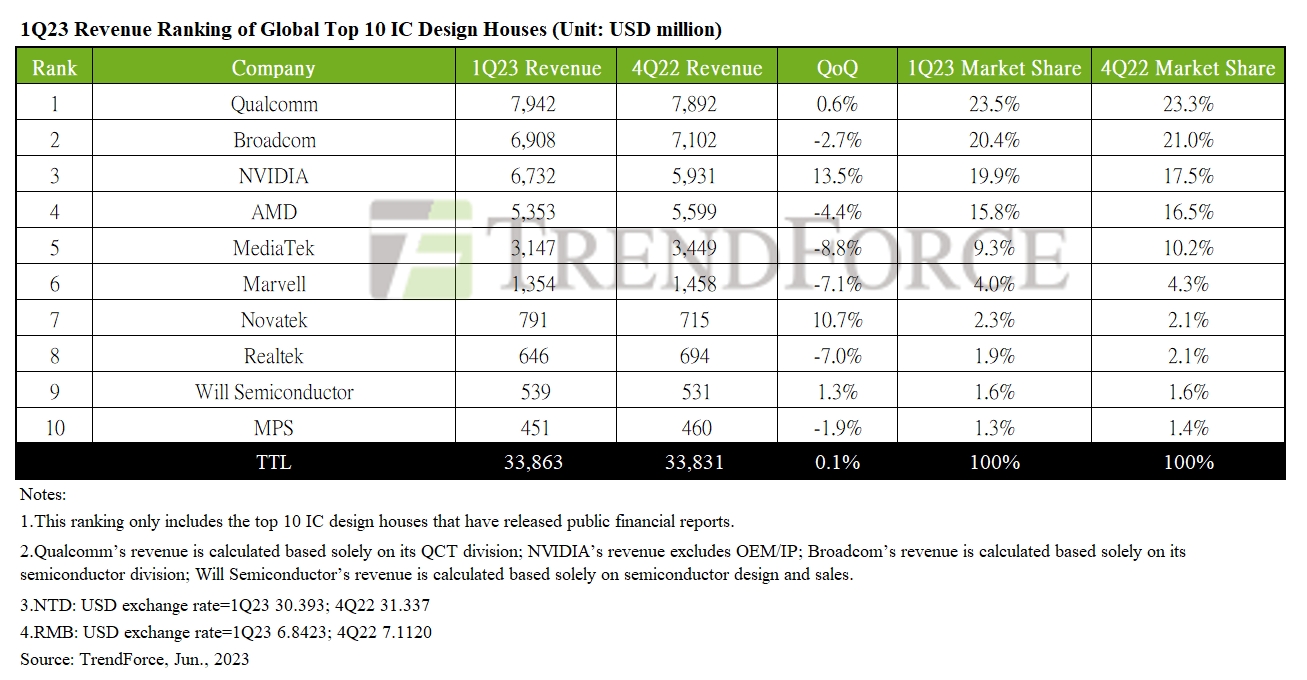 Here the full details of the analysis shared by TrendForce in its latest study:

TrendForce reports that inventory reduction in Q1 fell short of expectations and coincided with the industry's traditional off-season, leading to overall subdued demand. However, due to new product release and a surge in urgent orders for specialized specifications, Q1 revenue of the global top ten IC design houses remained on par with 4Q22, with a modest QoQ increase of 0.1% for a total revenue of US$33.86 billion. Changes in ranking included Cirrus Logic slipping from the top ten as well as the ninth and tenth positions being replaced by WillSemi and MPS, respectively. The rest of the rankings remained unchanged.

The smartphone supply continues to grapple with overstock, but AI applications are entering a period of rapid growth

Qualcomm witnessed an uptick in its revenue, largely attributed to the launch and subsequent shipments of its latest flagship chip, the Snapdragon 8Gen2. The company saw 6.1% in QoQ growth in its smartphone business, which effectively offset the downturn from its automotive and IoT sectors. As a result, Qualcomm's Q1 revenue increased marginally by 0.6%, cementing its position at the top of the pack with a market share of 23.5%.

Broadcom, however, faced challenges stemming from the waning dividends of its product migration, coupled with a slowdown in demand for server storage and a seasonal downturn in the wireless sector. This led to a first-time quarterly decrease in revenue in 1Q23, with Broadcom's revenue decline to US$6.91 billion.

Nvidia experienced significant growth this quarter, fueled by an explosive surge in demand for generative AI and cloud computing, alongside the introduction of the RTX 40 series. The company's revenue from gaming and data centers saw a quarterly increase of 20% and 10%, respectively. This propelled Nvidia's Q1 revenue by 13.5%, reaching US$6.73 billion and elevating its market share to close to 20%.

AMD faced several challenges, including inventory adjustments by some CSPs, weakened corporate expenditure due to macroeconomic influences, and a range of negative factors such as inventory modifications and an off-peak consumption period among PC-related clients. These led to a 21.8% and 18.2% QoQ decline in the revenue of its data center and client divisions, respectively. Although there was growth in the embedded and gaming sectors, which helped counterbalance some of the downturn, AMD's Q1 revenue still experienced a 4.4% reduction, falling to US$5.35 billion.

MediaTek—during a lull in smartphone production and amid ongoing inventory adjustments in power management Ics—witnessed a 20% and 13% decline in its smartphone and power management IC sectors, respectively. Meanwhile, its business in smart edge platforms benefited from replenishment of TV-related inventory, ensuring the company's revenue continued to remain on par with the previous quarter. Even though the extent of the quarterly decline was less severe than in the previous quarter, it was still greater than the company's remaining top 5 competitors, dropping MediaTek's market share from 10.2% last quarter to 9.3%. Consequently, MediaTek's overall revenue in 1Q23 fell 8.8% to US$3.15 billion.

Marvell's Q1 revenue across all platforms was significantly impacted by adjustments in customer and channel inventories, leading to a QoQ decline of 7.1% and revenue falling to US$1.35 billion. This dip occurred despite steady demand from servers, CSPs, and 5G-related wireless services. When taking a look at variations in revenue across all platform, both consumer products and data centers suffered over a 10% decline. Seasonal factors were to blame for consumer products; for data centers, it was due to a slowdown in demand from on-premise enterprise businesses.

Novatek's SoC and panel driver IC businesses experienced a QoQ growth of 24% and 2%, respectively, driven by the restocking of TV-related components. This led to a 10.7% increase in the company's Q1 revenue, bringing it up to US$791 million. Novatek maintained its seventh position with a market share of 2.3%.

Cirrus Logic, with over 80% of its revenue dependent on Apple alone, experienced a significant reduction in earnings due to factors such as a waning "new product" boost from the iPhone and a seasonal dip in sales. Consequently, Cirrus Logic dropped out of the top ten. The ninth and tenth positions were subsequently filled by WillSemi and power management IC giant MPS. WillSemi reported a Q1 revenue of US$539 million, marking a QoQ growth of 1.3%. MPS, however, witnessed a 1.9% QoQ decline, with its Q1 revenue standing at US$451 million.

Looking ahead to the next quarter, although IC inventory clearance has been slower than anticipated, it has gradually rebounded to a healthier level in contrast to the period of excess inventory in 2H22. Simultaneously, the introduction of new products may stimulate positive growth for some IC design houses.

Nvidia, in particular, is one to watch. The rapid global deployment of AI chips—championed by CSPs and businesses, and stimulated by the rising popularity of generative AI technologies like ChatGPT—is expected to trigger a swift revenue surge. Given these dynamics, it's likely that Nvidia may rise to become the dominant IC design house in 2Q23. This potential growth could not only boost Nvidia but also inspire a resurgence among the top ten global IC design houses, leading to a recovery from the market downturn.

News Source: TrendForce