onsemi on track for $1 billion SiC revenues in 2023: What is it doing right?
Date: 27/06/2023
Despite being a relative latecomer to the power SiC device market, onsemi's 2023 Q1 results suggest it is on track to achieve ambitious revenues of $1 billion in 2023. The firm nearly doubled its earnings over last quarter and experienced a greater than 3.5-fold increase in earnings between 2021 and 2022.





Major IDMs are capitalising on the rapidly-growing power SiC device market – where the market size doubled from Q1 in 2022– but onsemi is outpacing its peers in terms of growth rate, including market leader STMicroelectronics.

Yole Intelligence's analysts, Poshun Chiu and Taha Ayari ask: What strategies have led to onsemi's rapid success in this market, and what could stand in the way of it achieving its bold $1 billion target?

This analysis is part of the Power SiC/GaN Compound Semiconductor Market Monitor, Q2 update. Yole Intelligence is a Yole Group company.
A design win strategy

Until now, Tesla has been the main high-volume adopter of SiC devices in its electric vehicle inverters, which has helped to drive growth among its major suppliers, including STMicroelectronics and onsemi.

To help diversify and expand its revenue, onsemi has been very efficient in building partnerships with other car manufacturers, and has signed several agreements in recent months. In 2022, it achieved a SiC inverter design win with Chinese EV manufacturer Nio for high-volume supply, and in 2023 alone it has established partnerships with Hyundai (South Korea), Zeekr (China), and Volkswagen and BMW in Germany (low volumes in the near term).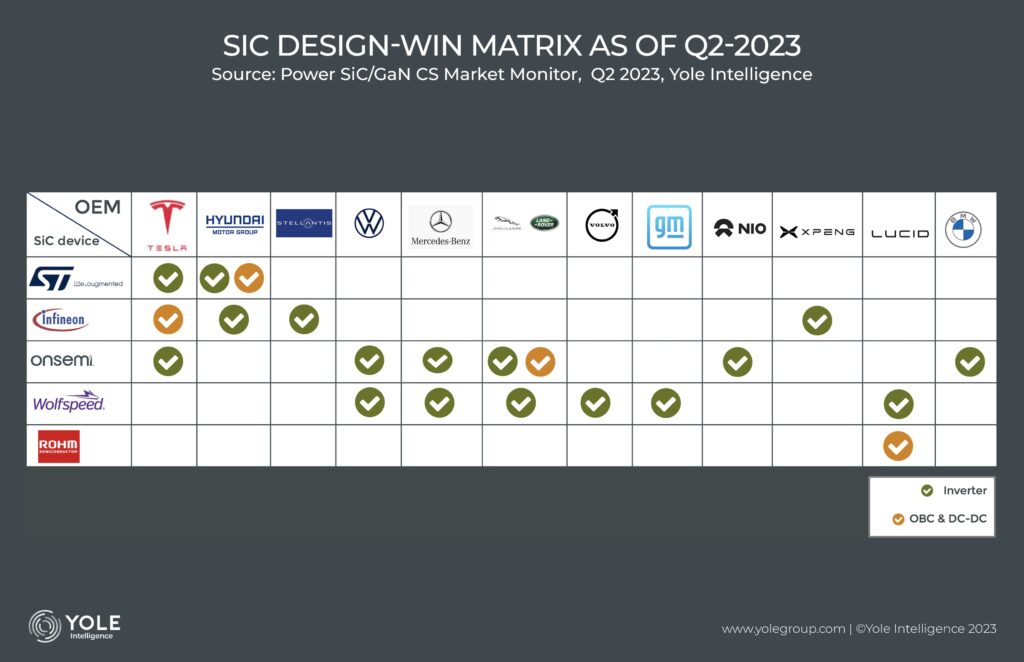 onsemi has also recently partnered with Tier 1s that are set to play an important role in the launch of new EV models by OEMs in 2023-24 onwards. At the end of May, for example, it signed a $1.9 billion, 10-year supply agreement with Vitesco Technologies, which will see both companies invest in production capacity as well as co-develop traction inverter products.
Ensuring future SiC supply

But as more car makers look to adopt SiC products and ramp up volumes, IDMs must secure their supply of SiC materials. Considering its ambitious growth targets, onsemi has needed to expand both its internal capacity and external supply in recent years, which will be essential in realising its $1 billion target by the end of 2023.


Poshun Chiu, Senior Technology & Market Analyst, Compound Semiconductors & Emerging Substrates at Yole Intelligence said
"Through their purchase of US-based GT Advanced Technologies in 2021, onsemi gained its own in-house wafer supply which it previously had to source solely from external firms such as Wolfspeed and SiCrystal. In 2022, this site was expanded, which increased its capacity fivefold year-on-year."

The company's epiwafer fab in the Czech Republic was also extended in 2022, which will grow capacity by 16 times by 2024, and it has plans to expand its South Korean device fab in the near future. Onsemi injects around 10% to 15% of its annual revenue into capacity expansion, including SiC crystal growth and processes. And its focus on brownfield expansion allows it to reduce both costs and time to market. The company says this strategy enables CapEx savings of around 40% compared to greenfield investment and accelerates product launches by two years. According to Onsemi, the company's capital intensity is nearly half the peer group median.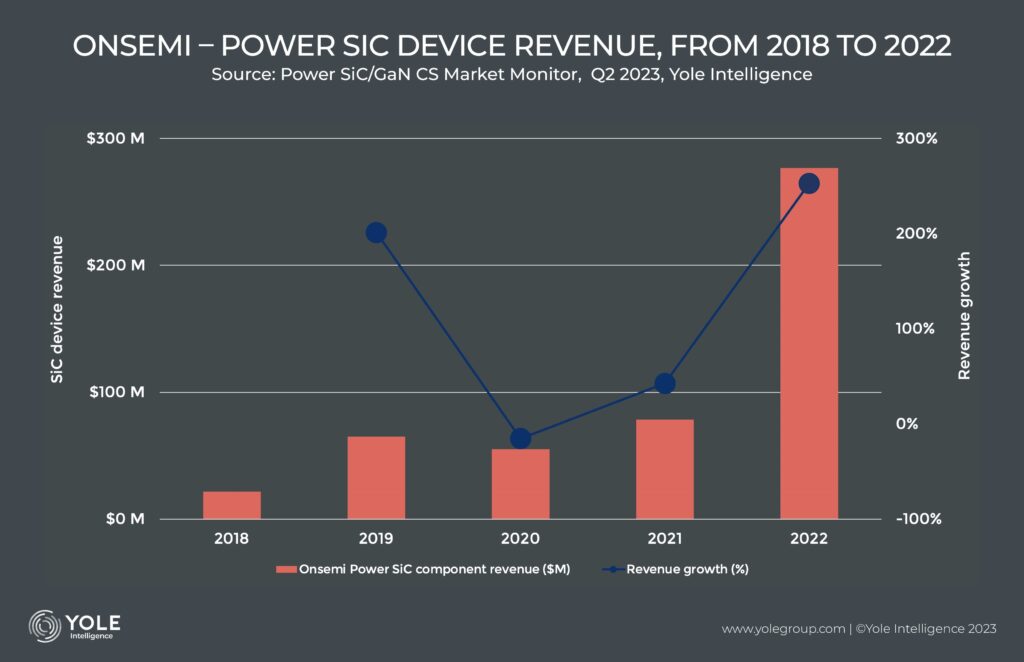 Onsemi has further aggressive targets for capacity expansion in the next three years to keep up with demand – by 2026 it wants to increase its 2022 capacity five fold. This will, in part, be enabled by moving to 8-inch wafer platforms, which it aims to achieve by 2025.

The company's brownfield SiC expansion will build on the global presence it already has in silicon, which differs from other players such as STMicroelectronics that have centralised SiC manufacturing facilities. This allows onsemi to take advantage of regional initiatives across the globe, such as the Chips Act and Made in America policies in the US.

Emerging competition with 8-inch platforms

The strategies of SiC players in recent years has focused on overcoming the bottleneck of supply, which has limited the level of competition within this space as companies struggle to fill the orders they have. But with 8-inch capacity facilities set to begin production in 2025, competition is likely to emerge between the major IDMs that will have greater internal supply and improved access to facilities.

This will no doubt affect Wolfspeed, who is the undisputed leader in SiC wafer production today but will struggle to keep competitors at bay once other major players expand internal wafer supply. This makes it vulnerable to acquisition, in which onsemi seems a natural buyer, Yole Group CEO Jean-Christophe Eloy recently discussed, as the company attempts to dominate the power electronics market.

Taha Ayari, Technology & Market Analyst, Compound Semiconductor and Emerging Substrates, at Yole Intelligence said "onsemi's strategy seems to focus on shorter-term wins, as evidenced by its decision to sell its GaN facility last year. This has allowed the company to place greater focus on the SiC market, which it is on track to achieve a significant, and fast, return on investment following its market entrance in 2018."

onsemi is certainly employing an aggressive and agile strategy, spearheaded by its CEO and Silicon Valley 40 under 40 recipient Hassane El-Khoury. We expect the company to have some level of activity in GaN in the future, particularly with Infineon Technologies's announcement to acquire GaN Systems earlier this year, which interestingly points to a contrasting, longer-term strategy. It will be fascinating to see onsemi make its next move in the third building block in power electronics, and to find out how these opposing strategies evolve in the near future.

Onsemi has established a strong position in the power SiC device market despite its late entry. Early figures point to it reaching its $1 billion target, but will its next quarter results follow this ambitious trajectory? Follow Yole Group to hear first!
News Source: Yole Group