Wearble band market grows triple digit in India in 1Q2023
Date: 06/06/2023
Market researcher Canalys has reported that Global wearable band shipments declined by 1% year-on-year to 41 million units in Q1 2023. whereas the Indian market for same products growing 122% year-on-year has offset the 14% annual decline across the globe. The global basic band shipments continued to shrink, dropping 24% to 7.5 million units, as vendors and consumers continued to shift toward larger screens. In contrast, the global basic watch shipments boasted a strong 28% growth with 18.0 million units, driven by the surging demand in India. Shipments of smartwatches declined by 11%, to 15.8 million units.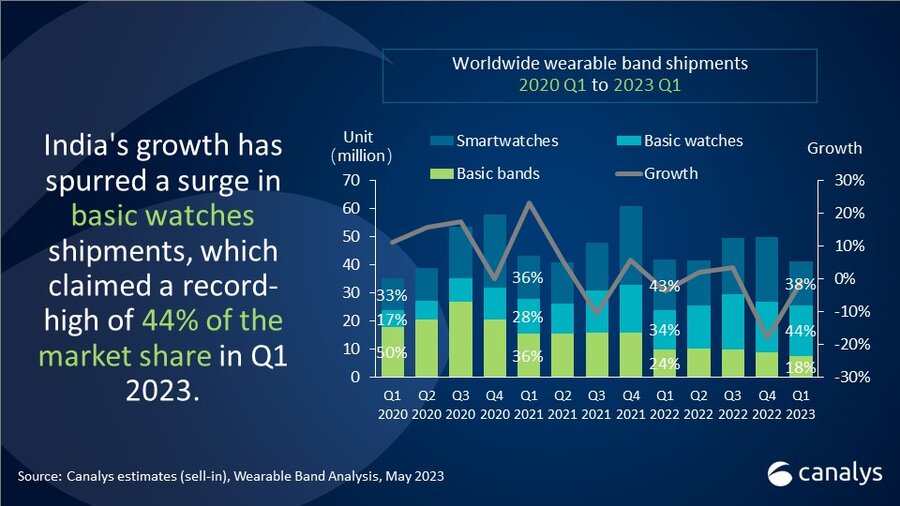 "India's wearable band market is booming, having exceptional triple-digit growth in Q1 2023," said Cynthia Chen, Research Manager at Canalys. "Local vendors such as Fire Boltt, Noise and boAt are propelling the market forward with value-for-money focused strategies, capturing rising demand for basic watches. However, relying solely on entry-level hardware will be insufficient to sustain strong volumes in the long term. To create upgrade opportunities, vendors must adapt to changing consumer demands for improved features and integrated device experiences. Most regions faced double-digit decline outside India due to low consumer demand in a tough economic environment." Shipments into the United States and other markets declined by 13% and 21% respectively due to poor seasonality. In contrast, the Chinese market showed stronger resilience with only a 7% drop in shipments, thanks to robust performances from Huawei, Apple and Xiaomi.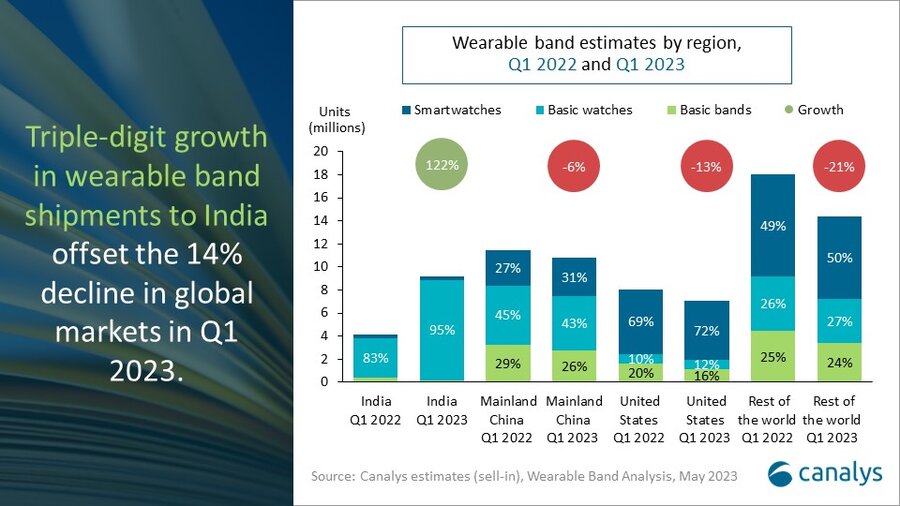 "Apple maintained its dominant position in the market with strong ecosystem loyalty and comprehensive smartwatch functionality," said Jack Leathem, Research Analyst at Canalys. "Although its shipments declined by 11% in Q1 2023, Apple was able to capture 20% of the market share." Xiaomi had the second-largest volume in Q1, making progress after its product portfolio adjustments last year. Xiaomi will focus on mid-to-high-end basic watches to enhance its brand while leveraging affordable basic bands and watches to drive overall sales volume. Huawei and Samsung followed in third and fourth places respectively, reflecting the high share of smartphone ecosystem players in the wearable band market. The largest non-smartphone player, Fire Boltt, broke into the global top five vendors for the first time despite solely selling wearable bands in India. Its volume grew by a remarkable 198%, driven by an extensive portfolio of competitively priced devices.

"Despite a slow start to 2023, we anticipate a resurgence in growth by year-end," added Chen. "Vendors will approach the market cautiously, seeking to differentiate their brands, products and ecosystems. Addressing specific segments, such as sports enthusiasts and health-conscious consumers, will be at the core of vendors' strategies through targeted marketing initiatives and innovative features. Vendors must prioritize software optimization and building resilient ecosystems to succeed. Still, the real potential lies in how well vendors can leverage data from wearable brands to provide personalized recommendations and insights. Each vendor's ability to utilize these insights to increase consumer interaction with the band and strengthen user-stickiness will eventually determine which vendors will succeed in the long run."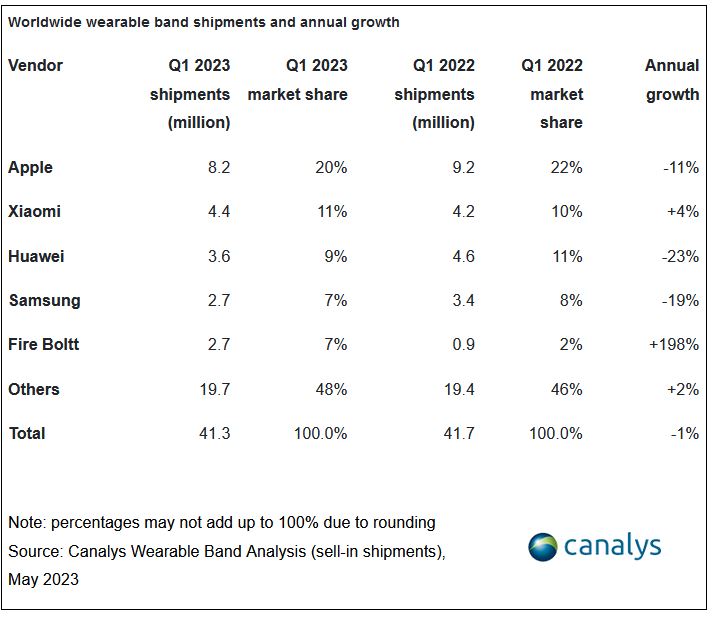 Note: percentages may not add up to 100% due to rounding
Source: Canalys Wearable Band Analysis (sell-in shipments), May 2023