Automotive: EV sales reach close to 2 Million in 1Q 2023, yoy growth of 26%
Date: 31/05/2023
Market researcher TrendForce finds the total sales of New Energy Vehicles (NEVs) comprising battery-electric vehicles (BEVs), plug-in hybrid electric vehicles (PHEVs), and fuel-cell vehicles (FCVs) reached 2.656 million units in the first quarter of 2023, marking a 28% YoY increase. Sales of BEVs contributed 1.942 million units to this total, a YoY growth of 26%, while PHEV sales amounted to 711,000 units, signifying a 34% YoY increase.

Further findings shared by TrendForce includes:

Tesla's strategic move to reduce prices resulted in a record-breaking first quarter, with sales reaching 423,000 units and boosting its market share to 21.8%. This considerable resurgence comes after three consecutive quarters where Tesla's BEV market share slipped below 20%, illustrating the immediate impact of price adjustments in market consolidation. BYD and Wuling secured second and third positions, respectively. However, Wuling, primarily known for its economical mini Evs, reported a notable dip in sales, selling less than 80,000 units in the first quarter. This drop can be primarily attributed to the influx of competitors in the low-cost mini-vehicle market. Hyundai and Kia took sixth and ninth places, respectively, with Hyundai achieving a new quarterly sales record. Volkswagen secured the fifth position, and two major luxury car brands, BMW and Mercedes-Benz, also made the list, indicating their hastened pace toward electrification.

BYD continues its dominance of the PHEV market with a solid 37% market share. Denza, an EV brand co-founded by BYD and Daimler, climbed to the eighth position in the first quarter. BYD's strategy of diversification continues to evolve positively, with the imminent introduction of the high-end luxury brand Yangwang. Li Auto ascended to second place in the first quarter, with multiple models contributing to its quarterly sales of 52,000 units, increasing its market share to 7.3%. The three major European luxury brands—BMW, Mercedes-Benz, and Volvo—held onto their top spots in the PHEV sales rankings, despite experiencing a YoY decline in sales.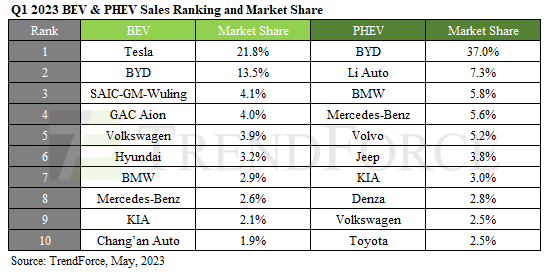 TrendForce asserts that as countries worldwide work towards increasing the proportion of zero-emission vehicles, sales of new energy vehicles are expected to continue their upward trajectory. This rise, thereby boosting their representation in the overall vehicle market, will create new opportunities within the automotive industry. However, the second half of the year could bring uncertainties due to factors such as high inflation, escalating interest rates, and potential consumer spending cuts. Additionally, the ability of smaller car manufacturers to weather these economic challenges remains unclear.