Date: 14/07/2017
Play vertical game to become successful in the semiconductor chip market
Aart De Geus, Chairman of Synopsys suggests to play vertical game to become successful in the semiconductor chip market. Aart De Geus shared key market and technology trends in VLSI-chip centric electronics and semiconductor market in his keynote at SNUG India 2017 event held in Bengaluru. He shared his first autonomous-car ride experience on a highway which Aart sees as one of the big and immediate market opportunity for silicon and software industry.
Aart explained 2/3 instances of how a self driving car acted at different scenarios, where he could see some good decisions and not so good decisions by the ADAS-electronics inside the car. His observation is "how far it has come, and how far we have to go", he mean the technology is enormously grown to support autonomous driving but still a lot need to be done to make self driving technology a safe one and a better one.

Though this was an example, he was telling the audience who are mainly the VLSI design engineers, the trend of smart everything and also further growth in density of transistors in semiconductor chips creating a lot of opportunity for many verticals. The three dimensional scaling of silicon was once thought very difficult and near impossible, but now it has progressing as fast as any other CMOS scaling, Aart De Geus sees this trend to continue.

So this advance in 3D silicon integration is opening advances in software. Smart everything will impact everything, it will impact varieties of verticals, some of which we are already seeing in car, home, body and industrial robots, said Aart.

He shared the trend of software requirements in artificial intelligence and machine learning driving the hardware( VLSI chips) . Self driving vehicles used lot of artificial intelligence and machine learning and that code need to run on high performance processors . To address this growing market, semiconductor companies gaining strength in automotive through acquisitions. Some of the examples he gave was Intel acquiring mobileye and Samsung acquiring Harman.

Aart De Geus said "collaboration is going to be more essential to win in this vertical game".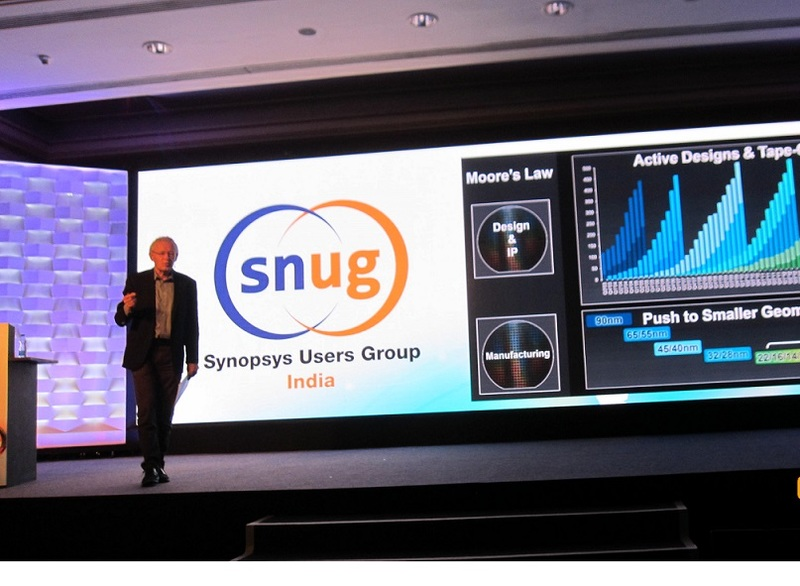 Pic above: Aart De Geus delivering keynote at SNUG India 2017 event held in Bengaluru

Update1 dated 17 Jun 2017:

Aart De Geus called smart electronics era as digital intelligence era (another word for Artificial Intelligence AI), his quote on that was "After computation for 20 years and mobility for 15 years, we are now entering the era of digital intelligence. Digital intelligence will massively change the world, and we are in the midst of this. It changes the world in every possible aspect that you can think of. Wearables, things in your home, your car-everything will be touched".

On the 2nd day of SNUG India 2017, another keynote speaker Vivek Sharma Managing Director at STMicroelectronics talked on the subject titled " Sand to Cloud: Can India Ride 'Smart X' Wave ". He said "Semiconductors today play a pivotal role across various verticals like smart driving, smart industry, smart cities and homes. India has a huge opportunity to play in the digital era and make the most of the smart wave."