Date: 22/12/2016
Airpods are new market enabler for digital audio UI
After the launch of Apple AirPods and such stylish wireless hearing devices, its become trendy to go for the wireless audio ear-bud both for listening as well as voice commanding of your smart phone or any such digital gadget which has voice/speech control interface.

When it comes to User Interface (UI) research, Apple always leads, even in this case of audio/speech/voice wireless interface, it has triggered a new market trend in the smartphone industry and hearing accessory market including hearing aids, which going to become part of your smart phone solution. AirPods use Apple's custom-designed W1 chip and also reported by some online sources that they also may be using NXP devices.

The other big smart phone maker Samsung too launched its own earbud called Gear IconX. Soon to follow is the cheaper version of these devices from China based OEMs.

How big is this market? Apple's airpods are sold at around US$ 150+. The total market may run into tens of billions of dollars for this product. Short-range wireless transceivers with Bluetooth or some innovative wireless chips will see big jump in demand. Also sooner the headphone Jack may disappear from phones.

NXP Semiconductor has launched semiconductor IC NxH2280 exclusively for wireless audio streaming and data communication using near field magnetic induction technology targeting this
hearble device market. This wireless stereo audio streaming solution is called "MiGLO" which enables development of wireless earbuds or hearables.

MiGLO specialty is delivering high-quality audio very less power consumption. The features include reliable wireless connection (to avoid drop-outs), low latency audio transport (to maintain lip sync) and tightly controlled left and right (L/R) audio synchronization (to maintain the stereo image).

Alpha Audiotronics has launched audio device called "skybud" based on NXP's MiGLO. Other product called "in-ear computer" from a company called Doppler Labs also uses MiGLO. Nuheara's new earbuds featuring MiGLO offer advanced speech amplification and dynamic noise control.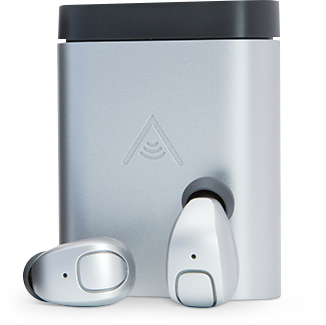 Pic above: Skybud

A head-phone called Dash use NFMI as well to support high quality audio listening for up to six hours.

MiGLO solutions are available in Wafer Level Chip Scale Package (WLCSP) measuring a size of smaller than 11 mm2. NXP says "Unlike other wireless solutions, NFMI is designed to work accurately even if earbuds get smaller in future".

Siemens is also into this technology where it offers NFMI -based audio transmission in its hearing aids. Siemens calls this technology as e2e 3.0, where semiconductor device supporting such technology occupies very less die area and consumes less power.

The advantages of NFMI which works like two coils magnetically coupled: it operates within a frequency band of 3 to 15 MHz easily propagates through and around the human head and body. NFMI Can only transmit signal for very shorter distances so that they don't interfere with other RF devices and also difficult to hack into.

Another advantage of these earbuds are they can also be used for medical diagnosis, since they are physically in touch with the skin of the ear and also some medical parameters which can be measured through ear canal.