Date: 24/10/2016
Qualcomm and NXP deal, a single move aiming multiple targets
The leading semiconductor vendors Qualcomm and NXP are near to strike a acquisition deal , according to multiple media sources. Is this a move to aim at multiple targets?

Qualcomm is top vendor of SoC chips for the latest Smartphones. Qualcomm also supplies chips to other wireless markets such as WIFI and Bluetooth. Qualcomm is top leader in the cellular and short range wireless space. NXP Semiconductor is a leader in different area compared to Qualcomm. NXP is number one microcontroller vendor in the world. NXP is also number one vendor of automotive ICs. NXP gained its top position after acquiring Freescale Semiconductor.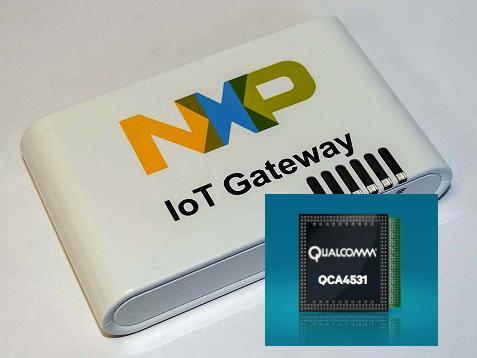 When we see the recent past of Qualcommís revenue performance from 2012 onwards, it was only an upward curve up to 2014-end. But begin 2015, the revenues started declining due to smartphone market-effects. Qualcomm to get out of this fall, it is realigning its strategy for emerging market opportunity requirements. Thatís where the thought of acquiring NXP or any such company comes in. On the other side, when you look at NXP Semiconductors, the revenue is steadily growing from 2011-12 onwards and has started suddenly climbing in 2015 due to the addition of revenue from Freescale part of the business. But, if you look into the detailed analysis of NXPís growth after Freescale acquisition, the growth is not really the sum of what NXP and Freescale should have generated separately. In that sense, NXP might have not really gained that significant benefit of acquiring Freescale.

What after Qualcomm buys NXP Semiconductors? Letís assume for time being that Qualcomm has acquired NXP, what will be the total revenue next year? We estimate the total revenue will be somewhere around $8 Billion plus. If not a steep growth, record revenue figure for Qualcomm.

So, what are the emerging markets Qualcomm is targeting? The most emerging market is IoT. IoT is the focus not only for Qualcomm and NXP but to many leading Semiconductor vendors all the way from Intel to STMicroelectronics to Texas instruments to any small company. Every chip vendor is looking at that big pie of IoT opportunity. NXP is already there in IoT markets by attending to the market opportunity long before it emerged. NXP has software, hardware, chips, standards and security expertise tailored for the IoT. Whereas Qualcomm is trying to get into IoT through its IoT specific Soc offerings. But, that offerings does not really cover the wide band of opportunities available in the market. Whereas NXPís offeringsí addressed broader market. By acquiring NXP, Qualcomm gains significantly.

IoT is one tech area, and another interesting area targeted by Qualcomm is automotive application domain. Automotive requires both infotainment as well as other safety critical electronics for todayís self driving cars/ ADAS Systems. NXP is already number one in that area. Now, in the infotainment area Qualcomm can get into automotive in a big way through its SoC chips which can work seamlessly with NXP chips that is another big market.

Qualcomm aim in acquiring NXP, can hit the target of broader IoT market strengthening of both consumer and industrial, and application-vertical wise it can hit the target of automotive market strengthening.

Letís look at how it impacts the competitors: Intel is progressing quite well in the "large number of customers but small volume market", this acquisition will not have major impact on Intel, since NXP and Qualcomm is already giving enough competition to Intel separately. The combined effect won't be much bigger than individual effect.

When we look at other NXPís competitors such as Renesas and STMicroelectronics whose share in the microcontroller market fallen after NXP and Freescale deal, might see some ripple effect. But, again Renesas also has its own Smartphone SoC product portfolio acquired from Nokia. Renesas is number two Microcontroller vendor and is also second biggest vendor of automotive specific of SoC and Microcontroller chips. Qualcomm gains level playing fields to compete with Renesas.

However, Renesas acquired recently an analog and mixed signal specialist Intersil to maintain edge over its competitors.

Then comes STMicroelectronics, STMicroelectronics is strong in multiple segments of IoT and Automotive market. ST is also capable of addressing automotive infotainment through its SoC chips made using efficient and less costing FDSOI process. However, the combined Qualcomm + NXP can give tougher competition to both Renesas and ST. Other chip vendor who is also going to feel the heat is Texas Instruments. The market share of vendors such as Microchip, Cypress Semiconductor, Infineon, Silicon Laboratories and XMOS reduced after Freescale and NXP deal, may come under the view of smart acquirers.

Some of the media sources pointed out the culture and business model differences between NXP and Qualcomm might create merging tensions. One good example of culture and business differences is, Christmas and New Year holiday shopping consumer market is more important for Qualcomm than NXP.

Semiconductor market is a very a dynamic market, where nobody is a winner for long. The game continues. Whoever persistently innovates in technology and businesses wins. Sometimes a bit of luck works.

Can the present downwards heading semiconductor market benefit from this? The semiconductor market is looking for some powerful boosters. Can the combination of Qualcomm and NXP create a new market opportunity? The answer is no. They only target the present market opportunity. In that sense, this acquisition can hamper the market. Whether intentionally or unintentionally, the target should be to expand the semiconductor market.

How this will take further the big consolidation trend happening in the chip industry? Not only the deep-pocket leading semiconductor companies, but also Chinese investors are eyeing semiconductor companies around the world with strategic interest. So if there is a company with a valuable asset if not a growing revenue, can be the next hunt both from Chinese investors as well as other leading semiconductor companies. If one proposes other rises the bid. Until the final acquisition gets over, nobody knows the announce deal will materialise or not.