ISRO and Bangalore based Navika gets India GPS freedom
Date: 01/05/2016
India gets the technology-freedom in one of the key areas of global positioning systems (GPS), which is important not only for improving the lives of most of Indians and also for strategic purposes.

With the launch of seventh satellite by ISRO for global positioning Systems application, India's indigenous GPS system named NAVIC is up and running fully. NAVIC is the sixth GPS satellite constellation system in the world.

So with this Make-in-India achievement in space technology, there is also another Make-in-India achievement in electronics components, where an India owned Bangalore company called Navika Electronics is making GNSS/GPS semiconductor chipsets for receiving GPS data. This is also significant because there are hardly very few Indian companies designing and selling semiconductor chips in their own brand. Navika has offices both in Bangalore and Singapore.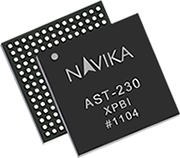 AST-230 from Navika is a GPS SOC for portable electronics applications. The AST-230 SOC is powered by ARM processor core ARM7TDMI. AST-230 features 16-Channel high performance GPS-SBAS baseband supporting indoor positioning. A internal memory of 2MB SRAM, USB 2.0, CAN2.0, SPI, I2C, UART are some of the features available in this chip.

AST-400 is another similar product from Navika. AST-400 integrates GPS-SBAS RF front-end with a high performance GPS-SBAS digital baseband/processor, making it suitable for applications which require smaller footprint.

Another product AST-GPSRF from Navika also packs RF front-end chip for down conversion and amplification of GPS and Galileo signals. AST-GPSRF is designed for L1 (1575.42 MHz), C/A GPS band receivers and OS Galileo band receivers.

There are lot more GPS/GNSS product solutions from Navika for different GPS/GNSS applications.

Check out the website http://www.navika-electronics.com for more details on this fabless Indian semiconductor company.

Author: Srinivasa Reddy N