Top 20 semiconductor vendors in 1Q2014
Date: 14/05/2014
The top-20 semiconductor ranking in Q1 2014 is quite a mix of companies with different product focus. The ranking by IC Insights include three pure-play foundries (TSMC, GlobalFoundries, and UMC) and six fabless companies. It is interesting to note that the top four semiconductor suppliers all have different business models. Intel is essentially a pure-play IDM, Samsung a vertically integrated IC supplier, TSMC a pure-play foundry, and Qualcomm a fabless company, as observed by IC Insights.

The further finding shared by IC Insights include:

IC foundries are included in the top 20 ranking because IC Insights has always viewed the ranking as a top supplier list, not as a market share ranking, and realizes that in some cases semiconductor sales are double counted. With many of our clients being vendors to the semiconductor industry (supplying equipment, chemicals, gases, etc.), excluding large IC manufacturers like the foundries would leave significant "holes" in the list of top semiconductor suppliers. Foundries and fabless companies are clearly identified in Figure 1. In the April Update to The McClean Report, market share rankings of IC suppliers by product type were presented and foundries were excluded from these listings.

It should be noted that not all foundry sales should be excluded when attempting to create marketshare data. For example, although Samsung had a large amount of foundry sales in the first quarter, most of its sales were to Apple. Apple does not re-sell these devices, so counting these foundry sales as Samsung semiconductor sales does not introduce double counting.

Overall, the list shown in Figure 1 is provided as a guideline to identify which companies are the leading semiconductor suppliers, whether they are IDMs, fabless companies, or foundries.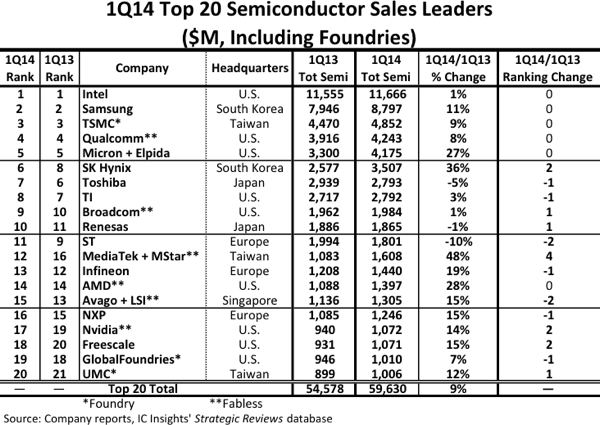 Figure 1

Outside of the top five spots, there were numerous changes within the 1Q14 top-20 semiconductor supplier ranking. As shown, MediaTek jumped up four positions in 1Q14 as compared to 1Q13 into 12th place. MediaTek continues to experience extremely strong demand for its devices in the booming low-end smartphone business in China and other Asia-Pacific locations. Moreover, MediaTek and MStar finalized their merger on February 1, 2014. Annual post-merger sales for MediaTek are expected to be well over $6 billion.

After Avago's purchase of LSI Corp. on May 6, 2014, the combined annual semiconductor sales run-rate of the two companies is likely to be over $5 billion. Also, last year's Micron/Elpida merger essentially created a new "giant" semiconductor company with Micron's sales expected to be over $17 billion this year!

It should be noted that the sales of Micron and Elpida (merged on July 1, 2013), MediaTek and MStar, and Avago and LSI use the combined sales of the two companies for both 1Q13 and 1Q14, regardless of when the merger actually occurred. This was done in an attempt to make the company's 1Q14/1Q13 sales growth rates more directly comparable and give a clearer picture of the merged company's sizes going forward.

Another potential merger to keep a watch for in the future is Fujitsu and Panasonic. In February of this year, the two Japan-based companies signed a memorandum of understanding to combine the two companies' system LSI businesses and form a new fabless semiconductor company. IC Insights estimates that the combined 1Q14 semiconductor sales of these two companies was about $1.25 billion (down from $1.44 billion in 1Q13), which would have ranked the "merged" company as the sixteenth largest semiconductor company in the first quarter of this year.

In total, the top 20 semiconductor companies' sales increased by 9% in 1Q14 as compared to 1Q13, which was two points higher than IC Insights' current 7% forecast for total worldwide semiconductor market growth this year. As shown, it took total semiconductor sales of just over $1.0 billion to make the 1Q14 top 20 ranking.

Figure 2 shows that there was a 58-percentage-point range of year-over-year growth rates among the 1Q14 worldwide top 20 semiconductor suppliers—from +48% for MediaTek/MStar to -10% for ST (it should be noted that excluding the legacy ST-Ericsson products, ST's 1Q14/1Q13 sales increased 1%).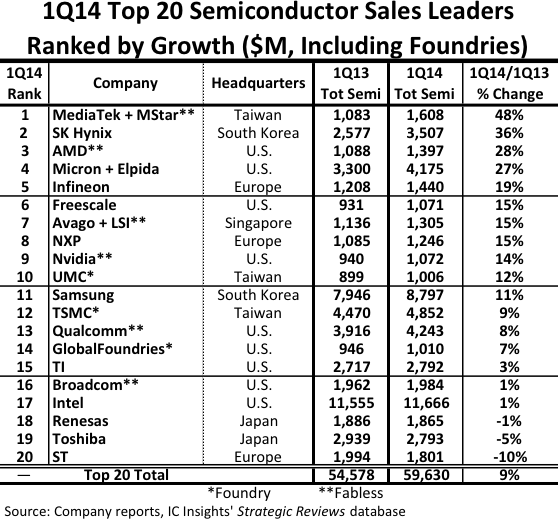 Figure 2

The success of the fabless and fab-lite business models and the continued strong growth of the memory market are evident when examining the top 20 semiconductor suppliers that logged double-digit growth in 1Q14. As shown, 10 of the top 11 1Q14 performers were either memory suppliers (SK Hynix, Micron, and Samsung) or fabless/fab-lite companies (MediaTek, AMD, Infineon, Freescale, Avago/LSI, NXP, and Nvidia).

Author: Srinivasa Reddy N