Intel vs ARM 64 bit server processor race: ARM tyre punctured in test-drive
Date: 18/12/2013
With the growth of cloud computing and Internet of Things (IoT), there are billions of more computers or digital devices in need of access to servers for the data as well as computing off-load. There are around four types of servers, which are tower server, rack server, blade server and micro server. Intel is a long-time very-tall leader in the server processor chip market, which has a huge market share compared the second biggest server chip vendor AMD.

The micro server as the name suggests small in size and form factor and are designed to consume less power. In the category of micro servers, 64-bit ARM processor cores are employed now to design server processor chips. Like any other ARM processor core the server processor cores from ARM are designed to consume less power.

With this trend of availability of ARM 64 bit processor core for servers, Intel is now facing a competition from around half a dozen of chip companies who are designing server chips based on ARM 64-bit processor core. The 64-bit ARM processor cores compete with Intel's server processor chips mainly on the power consumption and the size. This is turning out to be interesting race. It's like Intel versus group of ARM based server chip vendors. In this there is also a startup Calexda found to design exclusively server chips based on ARM 64 bit arch.

The latest news as per the some of the news stories is that Calexda has nearly closed much of its business. The impact of this news is more like comparing this to a car race between Intel and ARM, where the ARM's car tyre got punctured in the trail or may be in the first lap, since lot more laps involved in this race, there is still a lot of hope for ARM showing interesting fight with Intel. To say it more directly, since there are lot more companies who are designing servers chips based on 64-bit processor, nothing can be said for some more time on who-is-going to win the race.

To give you an idea on the other key players designing ARM based server chips: AMD has developed an ARM based server chip called Seattle powered by ARM 64 bit processor core ARM Cortex A57, which is scheduled to be launched in the second half of 2014. The other interesting semiconductor chip companies working on 64-bit ARMv8 processor core based server chips includes Applied Micro, Hisilicon, Cavium Networks, and Nvidia. There is also rumours that Google is developing its own on ARM based server chips. All this indicates a more interesting competition in 2014 and 2015.

The risk with the ARM architecture is, its architecture is more open compared to Intel's processor architecture. ARM based servers run on open-source software such as Linux and such others. Since server need high level of security, the server chip designers who were using ARM processor cores, need to work extra hard to add more security layers. This also throws a huge opportunity for software companies to develop server software uniquely for ARM cores.

As far as the server market is concerned, the server market both the traditional as well as Micro server is expected to bounce back in the year 2014. IC insights says worldwide revenues of servers to reach record-high sales in the next three years before the next economic slowdown pulls the market down again in 2017 (Figure 1). IC insights forecasts the server sales to rise by a compound annual growth rate (CAGR) of just 1.5% between 2012 and 2017.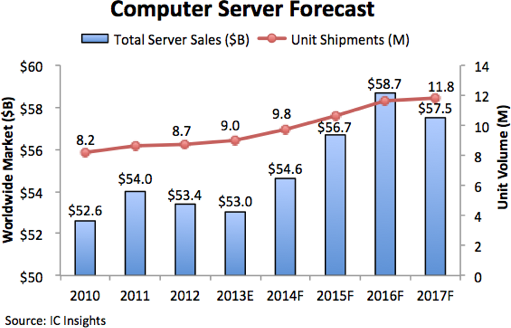 IC insights also opines micro-server segment has become a major battleground between Intel and about a half-dozen processor suppliers developing new 64-bit MPUs with ARM CPU cores for server systems.

IC Insights forecasts that microserver sales will climb 139% in 2014 to $580 million from an estimated $243 million in 2013. Between 2012 and 2017, microserver sales are projected to rise by a CAGR of nearly 72%, totaling $1.2 billion in the final year of the forecast in the Servers and Cloud Computing section of the new report.

The other findings in the server market shared by IC insights includes:
The total server IC market is projected to increase 3% in 2014 to $14.4 billion after back-to-back annual sales declines of 2% in 2013 and 2012. Overall, the server IC market is expected to rise by a CAGR of just 1.0% in the 2012-2017 period to $15.0 billion in the final year of the forecast, but stronger revenue growth will occur in multi-core MPUs for microservers and NAND flash memories for solid-state drives (SSDs), which can significantly boost the performance of servers by enabling more input/output operations per second (IOPS) than standard hard-disk drives, says the new 2014 report.

Author: Srinivasa Reddy N