Analog IC market research 2013 update by IC insights
Date: 17/10/2013
IC insights said the sales and unit shipments of both analog and digital ICs are forecast to post gains in 2013, but the strength of these increases will differ considerably".

The latest findings on analog IC market reported by IC insights include:

Figure below compares market results and forecasts for the analog and digital IC markets in 2012 and 2013. The total analog market has struggled to post meaningful sales growth over the past five years. Things are not expected to change much in 2013 as the total analog IC market is forecast to grow only 1%. For 2013 market for digital ICs is forecast to grow 6%.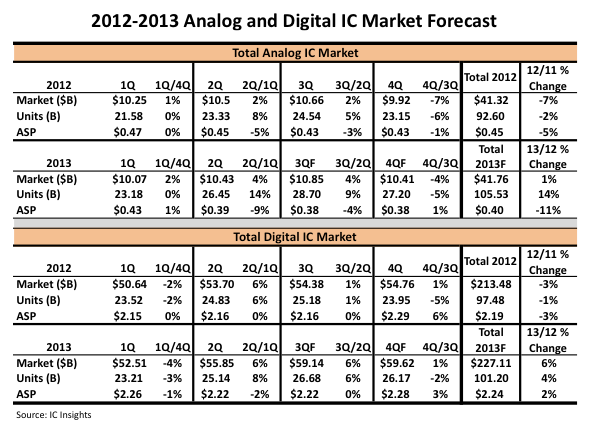 There was a very strong 14% upturn in analog unit shipments in 2Q13. IC Insights believes this was due to general inventory rebuilding and but also from growth of portable mobile devices, which have been a catalyst for power management analog and Consumer analog IC unit growth to date. This momentum carried into 3Q13 as well, and was forecast to result in a 9% increase in analog unit growth. Historically, sales and unit shipments of ICs slow down in the fourth quarter of the year as the buildup to the holiday buying season ends. For the year, analog unit shipments are forecast to exceed 100-billion devices for the first time in history.

The analog IC ASP is forecast to decline 11% in 2013. IC Insights believes increased competition for design wins in medical/health applications and in portable consumer/communication systems helped drive down the total analog ASP. In addition, many analog manufacturers have moved production to 200mm wafers (300mm wafers, in some cases), which has helped cut manufacturing costs per die and led to lower ASPs.

Some of the strongest analog IC unit growth in the first half of 2013 came from power management devices, which help extend useful battery life and operation of battery-powered, portable and mobile systems (Figure below). In the application-specific segment, very strong unit growth for Communications and Industrial analog devices offset significant declines in Consumer and Computer analog shipments in the first half of the year. IC Insights believes rising sales of personal and portable medical/health electronics contributed to the uptick in Industrial analog shipments.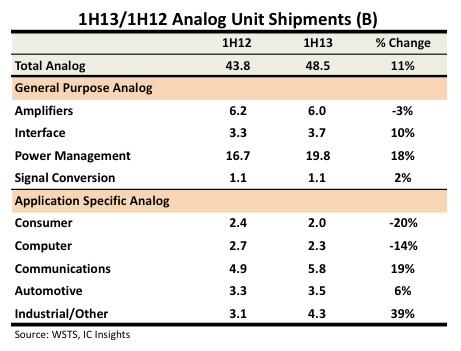 Author: Srinivasa Reddy N