ABI Research lists top contributors to 3GPP standards
Date: 12/08/2013
ABI Research has listed top contributors to 3GPP standards and technologies such as WCDMA/HSPA, LTE, and the EPC. ABI Research looked at the number of chairmanships, rapporteurships, overall contributions, approved contributions, and discussion papers for 3GPP standards. This was done for RAN1, RAN2, RAN3, RAN4, RAN5, SA1, SA2, SA3, SA4, SA5, CT1, CT3, and CT4 from 2009 through 2012.

ABI Research studied the top ten companies for each of the six criteria, creating a spider chart to get an overall picture that included the six companies that appeared in the top 10 of all six criteria. The top contributors to 3GPP standards were: Ericsson, Huawei, NSN, Alcatel-Lucent, Qualcomm, and Samsung.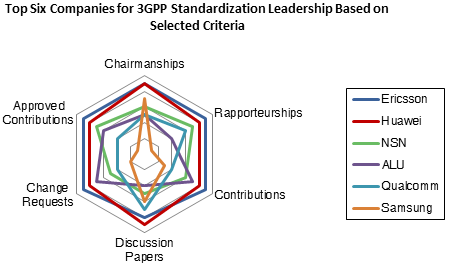 The top four companies ranked across these criteria are primarily mobile network equipment vendors. Qualcomm, a semiconductor vendor is fifth, followed by Samsung, which makes mobile devices and mobile network equipment among other products in and out of the mobile wireless industry.

"These six companies are leading the standardization process of 3GPP technologies," said research director Philip Solis. "Some of these contributions are minor, but some are also tied to intellectual property these companies hope will become a part of standards." At this point, most of the contributions are related to LTE-Advanced.

Author: Srinivasa Reddy N