Top vendors of semiconductor industry in 1Q 2013 by IC Insights
Date: 13/05/2013
IC Insights has announced the top 20 worldwide semiconductor (IC and O S D—optoelectronic, discrete, and sensor) sales leaders for 1Q13 include nine suppliers headquartered in the U.S., four in Japan, three in Europe, and two each in South Korea and Taiwan, a relatively broad representation of geographic regions. The top-20 ranking also includes three pure-play foundries (TSMC, GlobalFoundries, and UMC) and four fabless companies.

In total, the top 20 semiconductor companies' sales increased by 2% in 1Q13 as compared to 1Q12, one point better than the total 1Q13/1Q12 worldwide semiconductor market increase of 1%. It took semiconductor sales of almost $900 million in 1Q13 to make the top-20 ranking.

Intel remained firmly in control of the number one spot in the 1Q13 ranking. However, Intel lost some of its lead over second-ranked Samsung by registering 45% greater semiconductor sales than Samsung in 1Q13 as compared to a 68% margin in 1Q12. The only movement with regard to the top five spots in the 1Q13 ranking was that fabless supplier Qualcomm, riding the continued success of the smartphone market, reported a 28% surge in sales (highest among the top 20 companies) and moved up one position to replace Toshiba as the fourth-largest semiconductor supplier.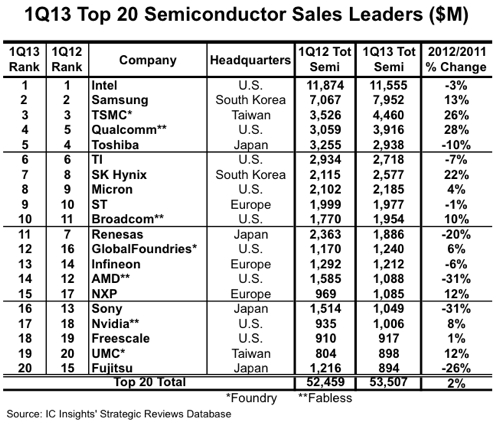 Micron's acquisition of Elpida is expected to be completed sometime in 2Q13. It is interesting to note that if Micron and Elpida's 1Q13 sales were combined, the "new" company would have had $3,060 million in total sales and would have been ranked as the fifth-largest semiconductor supplier.

By growth rate the top nine performers includes three fabless companies (Qualcomm, Broadcom, and Nvidia) and three pure-play foundries (TSMC, UMC, and GlobalFoundries).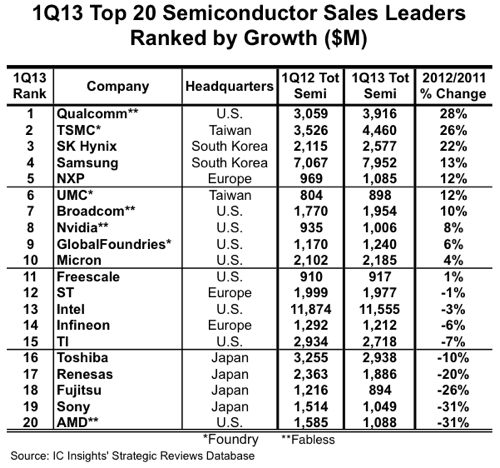 Author: Srinivasa Reddy N