Date: 18/05/2023
Samsung starts mass production of 16 GB DDR5 DRAM using advanced 12 nm process
By claiming technology breakthroughs such as using of new high K dielectric material to increase DRAM cell capacitance in its 12nm DDR5 DRAM memory cells, the number one semiconductor memory chip maker Samsung pushed the boundry of performance of DRAM chips. Samsung started mass production of its latest DDR5 DRAM chip with storage capacity of 16 Gb in industry's most advanced 12nm semiconductor memory fabrication technology. Samsung could also lower operating voltage and reduce noise in these devices.

12 nm DDR5 DRAM chips are amazingly faster with ability to transfer the data from memory to processor at a maximum speed of 7.2 Gb per second (Gbps) making it a better candidate for use in high-speed AI applications. Notebook computers built with these chips can smoothly handle UHD video processing.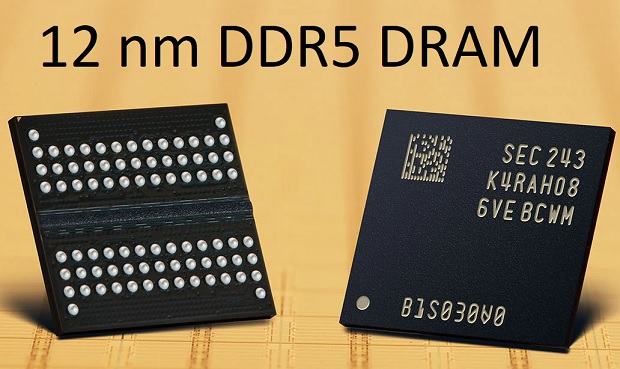 On the power consumption front, 12 nm DDR5 DRAM consumes 23% less power compared to previous generation DDR5 DRAM chips.

"Using differentiated process technology, Samsung's industry-leading 12nm-class DDR5 DRAM delivers outstanding performance and power efficiency," said Jooyoung Lee, Executive Vice President of DRAM Product & Technology at Samsung Electronics. "Our latest DRAM reflects our continued commitment to leading the DRAM market, not only with high-performance and high-capacity products that meet computing market demand for large-scale processing, but also by commercializing next-generation solutions that support greater productivity."
Samsung has worked closely with processor vendor AMD, where it has evaluated 16-Gigabit DDR5 DRAM for compatibility with AMD December 2022.

"Innovation often requires close collaboration with industry partners to push the bounds of technology," said Joe Macri, Senior VP, Corporate Fellow and Client, Compute and Graphics CTO at AMD. "We are thrilled to once again collaborate with Samsung, particularly on introducing DDR5 memory products that are optimized and validated on 'Zen' platforms."
Samsung completed its 16-gigabit DDR5 DRAM evaluation for compatibility with AMD last December, and continues to collaborate with global IT companies to drive innovation in the next-generation DRAM market.