Date: 13-09-15
DVCon India 2015 grows bigger in its second year
Design and verification conference (DVCon) India 2015 held on 10th and 11th of Sept 2015 in Bengaluru is the second DVCon event in India. Though it's only the second year for this event in India, there was good amount of crowd presence at the event listening to latest solutions in VLSI chip design.
VLSI design industry focused standard body Accelera Systems Initiative is the promoter of this event. Accelera Systems Initiative involved in creating standards for VLSI design and verification. The two factors which can be seen attributing to the success of this event are: all the three top EDA vendors Cadence, Mentor Graphics and Synopsys have sponsored the event, and the organising committee members involves staff from these companies. The design engineers from the above said companies are the major contributors for standards creation in Accelera Systems Initiative.
On the role of common standards and this event, Gaurav Jalan, general chair of DVCon India 2015 said "The key to solving SOC design challenges is by moving designs to higher abstraction levels and by enabling reuse of IP across levels. Developing common standards to be used by all participants of the ecosystem is the right way forward. Accelera has been instrumental in defining, developing and driving adoption of standards, thereby enabling the industry to manage the end demand. DVCon showcases the work done throughout the year by the community in different parts of the world"
So if you are silicon IP developer, you may have to get in line with the latest standards to ensure your design meets such standards.
The keynote-talks at the event highlighted the evolution of software tools to address the growing complexity of chip design.
The IOT panel with subject titled "IOT verification: Cubbon Park to Jurassic Park" discussed the bigger challenges in IOT.
There was also a keynote on India's electronics ecosystems by Vinay Shenoy, Chairman of India Electronics and Semiconductor Association (IESA) on how the electronics industry has evolved in India from 1960s to now.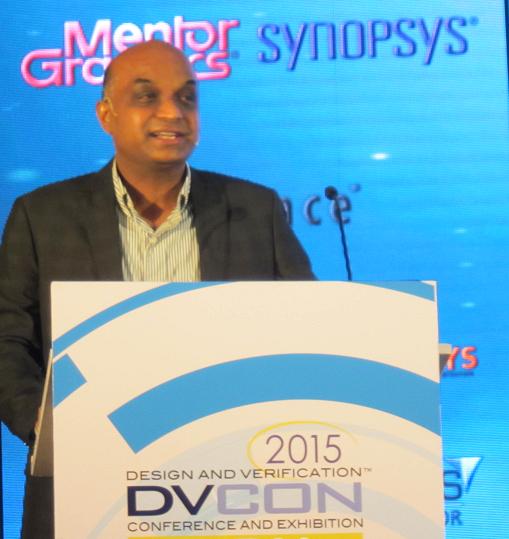 Picture: Vinay Shenoy, Chairman, IESA
To see pictures and tweets on the DVCON India 2015 check out the twitter account of Gaurav Jalan at https://twitter.com/gjalan.