Date: 12-08-13
45% of Wi-Fi chipsets in CE devices to support 802.11ac by 2017, says IMS
IMS forecasts over 45 Percent of Wi-Fi Chipsets in Consumer Electronic Devices in 2017 to Support Next-Generation 802.11ac Standard.
The other analytical points shared by IMS on WiFi chips market includes:
The increasing demand for bandwidth from mobile devices will spur the rapid adoption of next-generation Wi-Fi technology, with shipments of chipsets supporting the new 802.11ac standard set to account for nearly one-half of all Wi-Fi chipsets shipped for use in the consumer electronic device market in 2017.
Shipments of 802.11ac chipsets will make up 47 percent of all Wi-Fi chipset shipments in 2017, up from just 1.3 percent in 2013, according to the IHS (NYSE: IHS) Connected Devices Database. This will amount to a compound annual growth rate (CAGR) of more than 430 percent from 2012 to 2017.
However, another IHS study entitled "802.11 – New Markets and New Technologies – 2013 Edition", which examines the broader range of device segments which contribute to the wider Internet of Things, found that the transition to 802.11ac in device segments other than consumer electronics—such as fleet management and consumer health monitoring—will occur far slower, if at all. This is because many of these applications do not require the higher data rates offered by 802.11ac to perform basic connectivity functions, such as low bit-rate data transfer.
The 802.11ac standard provides up to three times the speeds possible with the incumbent 802.11n technology. The higher speeds are attained through advances such as support for wider frequency bands and more complex antenna configurations.
The figure below presents the penetration of 802.11ac among shipments of Wi-Fi chipsets.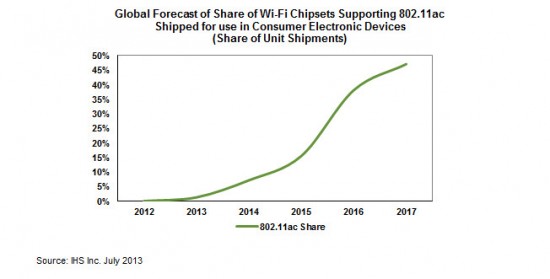 "Bandwidth requirements continue to increase, both in residential and enterprise networks," said Lisa Arrowsmith, associate director of connectivity research at IHS. "Consumers continue to stream higher levels of video content to mobile devices. Meanwhile, the bring-your-own-device trend is straining enterprise network bandwidth. Longer term, the trend toward cloud-based computing is likely to exacerbate these problems. All these developments are spurring demand for the faster Wi-Fi speeds delivered by 802.11ac."
Mobile devices lead the charge to 802.11ac:
Smartphones, networking equipment and laptop PCs are spearheading the adoption of 802.11ac, with strong uptake occurring in the first half of this year.
Among smartphones, for instance, the HTC One and Samsung Galaxy S4 included support for 802.11ac earlier this year. It's also widely believed that the next iteration of Apple Inc.'s iPhone will include the faster Wi-Fi standard. Earlier in June, during its Worldwide Developers Conference, Apple had announced the inclusion of 802.11ac in its Airport Extreme and Time Capsule products as well as in the revised MacBook Air, signifying Apple's support for the technology.
On the enterprise side, Cisco Systems Inc. in April released an 802.11ac module for its Aironet 3600 series of access points. For its part, Aruba Networks Inc. in May included 802.11ac in its 220 series of access points.
Traffic bypass:
The arrival of 802.11ac technology will make Wi-Fi more attractive to operators looking to offload cellular data traffic.
"The move by 802.11ac toward the 5-gigahertz band, along with its increasingly complicated multiple-input and multiple-output (MIMO) configurations, will help to further improve the robustness of Wi-Fi technology, making it more attractive to operators looking to offload cellular data traffic while maintaining the same level of experience and reliability," said Liam Quirke, senior analyst for connectivity at IHS.